田雨生 教授 (專任教師)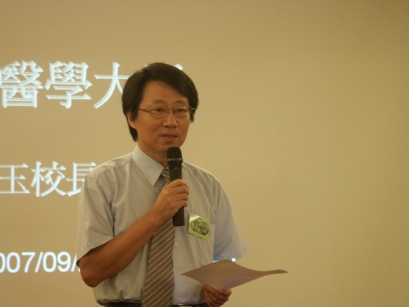 田雨生 教授
[現職]
中山醫學大學附設醫院影像醫學部主任
[學歷]
國防醫學院醫學系畢
國防醫學院臨床醫學研究所博士班畢
[經歷]
台北榮總放射線部住院醫師、總醫師、主治醫師
台中榮總放射線部主治醫師、主任
國軍台中總醫院放射科主治醫師、主任
e-mail : ystyan08@gmail.com.tw
著作
1.Kwo-Shen Chen, Chien-I Chiu, Ming-Chi Wu, Yen-Sheng Tyan, Lai Nan-ku. 3D TOF 磁振血管造影於急性休克病患之
警訊- 病例報告.中華放射線技術學雜誌(C J Radiologic Tech.) 34(3):201-205,2010.
2.H.Y.Tasi, N.S.Chong, Y.J.Ho, Y.S. Tyan. Evaluation of depth dose and glandular dose for digital mammography.
Radiation Measurements. 45(3):726-728,2010.
3.Jeng-Dong Hsu, Chung-Chin Yao, Ming-Yung Lee, Lai-Fong Kok, Po-Hui Wang, Yeu-Sheng Tyan, Chin-Ping Han. True
Cytokeratin 8/18 Immunohistochemistry is of No Use in Distinguishing Between Primary Endocervical and Endometrial
Adenocarcinomas in a Tissue Microarray Study. International Journal of Gynecological Pathology. 29(3):282-289,2010.
4.Rong-Chou Chang, Fang-Yuh Hsu, Tou-Rong Chen, Cheng-Ching Yu, Yeu-Sheng Tyan, Guen-Lan Chen.利用熱發光
劑量繼與人型假體評估頭部電腦斷層掃描之劑量與風險. 台灣應用輻射與同位素雜誌. 6(1):831-838, 2010.
5.Yeu-Sheng Tyan, Chuan-Jong Tung, Cheng-Ching Yu, Rong-Shan Chen, Jir-Jei Yang, Shann-Horng Hsiao, Tou-Rong

Chen.
度量康普吞90度散射光子重建分析X光能譜.台灣應用輻射與同位素雜誌. 6(1):819-824, 2010.
6.Ku MC, Tsai CM, Tyan YS. Multiple gastrointestinal stromal tumors in a patient with type I neurofibromatosis
presenting with tumor rupture and peritonitis. Clinical Imaging. 34 :57~59,2009.
7.Hsin-Hui Huang, Yeu-Sheng Tyan, Teng-Fu Tsao. Letters to the Editor: Time-of-Fight MR Angiography Not for Diagnosing
Subclavian Steal Syndrome. Radiology. 253(3):897~898, 2009.
8.Teng-Fu Tsao, Ruei-Jin Kang, Mein-Kai Gueng, Yeu-Sheng Tyan, Yung-Chang Lin, San-Kan Lee. Color Doppler Twinkling
Artifact and Clinical Use..J Med Ultrasound..17(3):157~166, 2009.
9.Chih-Ping Han, Ming-Yung Lee, Yeu-Sheng Tyan, Lai-Fong Kok, Chung-Chin Yao, Po-Hui Wang, Jeng-Dong Hsu,
Szu-Wen Tseng p16INK4 and CEA can be mutually exchanged with confidence between both relevant three-marker panels
(ER/Vim/CEA and ER/Vim/p16INK4) in distinguishing primary endometrial adenocarcinomas from endocervical
adenocarcinomas in a tissue microarray study. Virchows Arch. 455:353–361, 2009. ( contribution equal to 1st author)